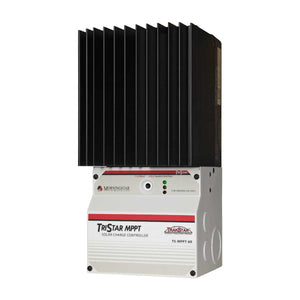 Morningstar TriStar MPPT 30A Charge Controller
The industry-leading TriStar MPPT™ with TrakStar Technology is an advanced maximum power point tracking controller for larger off-grid photovoltaic (PV) energy systems up to 3kWp. An iconic design, TriStars have been proven in solar installations around the globe and remain the first choice for designers of mission-critical systems where failure is not an option.
"one of the best charge controllers out there… these things are tanks"
Key features and benefits
Maximizes energy harvest

 

– superior peak power tracking over
conventional MPPT controllers.
Highest peak efficiency

 

for off-grid controllers in the industry: 99% (TS150).
Built for reliability and performance, with an oversized heatsink and
over-spec'd components. Fully-rated for operation at temperatures up to 45C.
Extensive networking and communications

 

features enable system
monitoring, data logging, and adjustability.
On-board RS-232 port included on all models;

 

Ethernet included on all 60A models.
Extensive electronic protections

 

include short-circuit, over-current and reverse polarity to ensure the controller will not be damaged by wiring mistakes or overloads.
Certified to IEC 62093 which

 

establishes requirements for the design qualification of balance-of-system (BOS) components used in terrestrial photovoltaic (PV) systems.
Fanless design

 

for long-term reliability