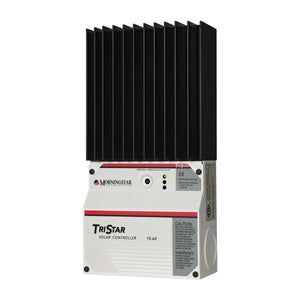 Morningstar TriStar 45A Charge Controller
The TriStar™ is a three-function PWM controller for larger systems, providing reliable PWM solar battery charging or load control or diversion regulation. The controller operates in one of these modes at a time and two or more controllers may be used to provide multiple functions. The TriStar uses advanced technology and automated production to provide exciting new features at a competitive cost to regulate battery charging in home systems and professional applications. The 60 amp version is also available with a factory installed meter. "It is a Morningstar, what do you expect! It is great."
Key features and benefits
Built for reliability and performance,

 

with an oversized heatsink and overspec'd components. Fully-rated for operation at temperatures up to 45C.
More information with LED indicators.

 

Optional meter displays extensive system and controller information in five languages; automatic self-test and
reset.
Communications capability

 

with RS-232 port, connects to a PC for custom settings, data logging, remote monitoring and control.
SNMP monitoring supported

 

when used with Ethernet MeterBus Converter so you can view system current, voltages, and alerts in your network management system.
Fully adjustable with DIP switches

 

for seven digital presets. Additional
custom setting via RS-232.
Extensive electronic protection

 

against reverse polarity, short circuits,
overcurrent and excessive temperature.
Low telecom noise.

 

DIP switch setting will change PWM to "On-Off" battery charging.
Fanless design

 

for long-term reliability.